Check out our new Facebook pages
---
April newsletter article by Jason Duysings
By the time you are reading this the new BGC Committee and myself have had our first meeting and tossed some new ideas around for the future of the BGC. We are gonna be very proactive with different archery clubs. For starters we will be using the FB page tremendously to support hunters throughout the state and what they have accomplished with their harvests. The Big Game Club Facebook page has increased the likes immensely in the last couple months, if you havent liked us on FB please do so. We plan on using that social media platform to communicate to our members and keep everyone updated. Have you taken any cool pictures of any Big Game animals while out hunting or scouting? If so, and you would like to see it as the BGC FB cover photo please send them my way; we plan on changing the cover photo ever so often and thought the members would like to see their photo's being used. when you harvest an animal and have it scored by a CBH measurer we will also post it with the official score. Its one small way to try and get more hunters involved with CBH and BGC. We are also looking for more CBH measurers throughout the state, if you are interested please get a hold of me or Roy Grace so we can pin point the location of our next measurers clinic.
The State Broadhead will be here sooner then we all know. Don't forget that we have the $10k raffle tickets for sell, if you would like to buy one,The following people are selling tickets; Joe Dotterer, Belle Leporini, Toni Johnson, Bill Potts, Pam Severtson, Darick Roney, Rojen Besha, Chriss Bowles, Gary McCain, Roy Grace, Matt Burns, Travis Schwartz, Riverside Archery, Joshua Walker, and Samantha Ewertz.
This year at the State Broadhead, we are allowing archery shops, archery clubs, taxidermist, CBH regions, and other private businesses to sponsor a target. what you get for showing support for the BGC is a 18" X 24" yard sign with your logo that will be placed by the target stake. Also, your logo will be placed on a large banner with all the 2018 Broadhead sponsors at the practice area. These signs are $200 and you can sponsor up to 2 targets. its a great way to show off your archery club logo,business logo, as well as show which regions are out there within CBH. please get a hold of me if you are interested in sponsoring a target.
PLEASE PLEASE PLEASE pre-register for the Broadhead. This will help the BGC run the shoot a lot more smoothly, shorter line on the ever so busy Friday evening and more time for you to spend with friends and family. Please pass the word to for the State Broadhead shoot, we would like to try and get record attendance this year, need a little motivation to get up to Tejon Ranch for this years Broadhead shoot? well here ya go, for all the paid shooters for the 2018 state Broadhead you will be entered into a separate drawing for Sat night. We will draw one male and one female for a trip to Africa to hunt with Lianga Safaris! Compliments of Liana Safaris and Willow Creek archery. So make sure you come on up to Tejon Ranch for this event and participate in the other activities the BGC has in store for you.
I would like to take the time to acknowledge the new 2018 BGC Committee members. Travis Schwartz, Rojen Besha, Al Wistovich, Samantha Ewertz, Darick Roney, Joshua Walker, Roy Grace, and Matt Burns being the small game chairman. These guys and gals have stepped up along side with me to keep the BGC rolling in the right direction. I am pleased to have them on my side and have had great conversations with many of them on how we can improve the BGC. We are a younger generation Committee from years past, but we have a lot of great ideas ahead of us. At the same time we plan to honor what the previous BGC committee has done to keep this program alive and we will always use them as a resource. Thank you again for your years of service!
I am always open to hearing others opinions or ideas, Please let me know if you have any questions, comments, or concerns.
Jason Duysings
Big Game Chairman & 2nd VP of Hunting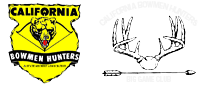 ---
Expansion of CDFW Land Pass Program
Dear California Bowmen Hunters and State Archery Association,
The California Department of Fish and Wildlife (CDFW) is expanding its Lands Pass Program (Program) to include 43 wildlife areas and ecological reserves where visitors must possess a lands pass while on the property, unless they are carrying their valid California hunting or fishing license. We are asking for your help in spreading the word to your members.
CDFW manages over 1 million acres of land, most of which is located on 247 ecological reserves and wildlife areas across the state. The majority of funding to manage these lands comes from hunters and anglers through a variety of federal and state programs.
The State Legislature directed CDFW to develop more income for land management from user fees by expanding the Program, which is currently implemented at six CDFW properties. In August 2016, after a lengthy public review process, the Fish and Game Commission voted to add an additional 37 properties.
In addition to visitors carrying their hunting or fishing license, visitors will be exempt from the lands pass requirement if they are under 16 years of age, or are part of a school or organized youth group field trip. This year, a daily lands pass costs $4.32 and an annual Lands Pass costs $24.33. Please note that a lands pass cannot be substituted for a hunting pass at a Type A or Type B wildlife area.
Lands passes will not be required until the properties have signs posted that explain the requirement. Properties that are new to the Lands Pass Program will be starting to require the passes between this coming November and January. We are preparing additional public outreach to notify the public before the requirement goes into effect.
Would you please distribute this information regarding the expansion of the lands pass requirement to your members? More information about the Lands Pass Program is at www.wildlife.ca.gov/licensing/Lands-Pass . A hardcopy version of this letter from the CDFW Lands Program Manager should arrive in the mail soon, although there are a few organizations that we were unable to obtain a USPS mailing address for. If you have questions about the Lands Pass Program, please contact me at Julie.Horenstein@wildlife.ca.gov.
Sincerely,
Julie Horenstein
Ecological Reserve Coordinator